This article is about three best friends, but they are no ordinary friends! Watson, Kiko, and Harry are their names and they are three ***** of fur. Watson and Kiko are two golden retrievers and Harry is the adorable silly cat that has taught the pooches what cats do best: napping!
27. BBFs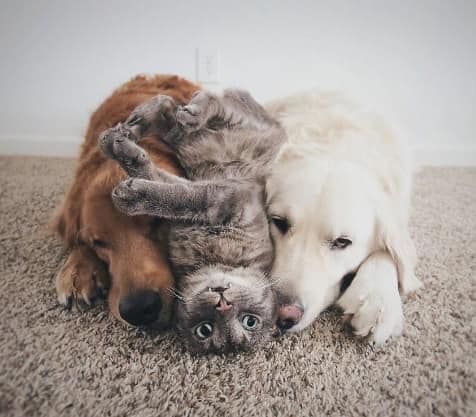 imgur.com
But they're not just best friends when it comes to napping, no sir! They stand up for each other, hug each other, play and travel together with their 23-year-old human friend who can't get enough of snapping pictures of them in the funniest and adorable poses. Check them out – #9 and #6 are our favorites!
26. How They Met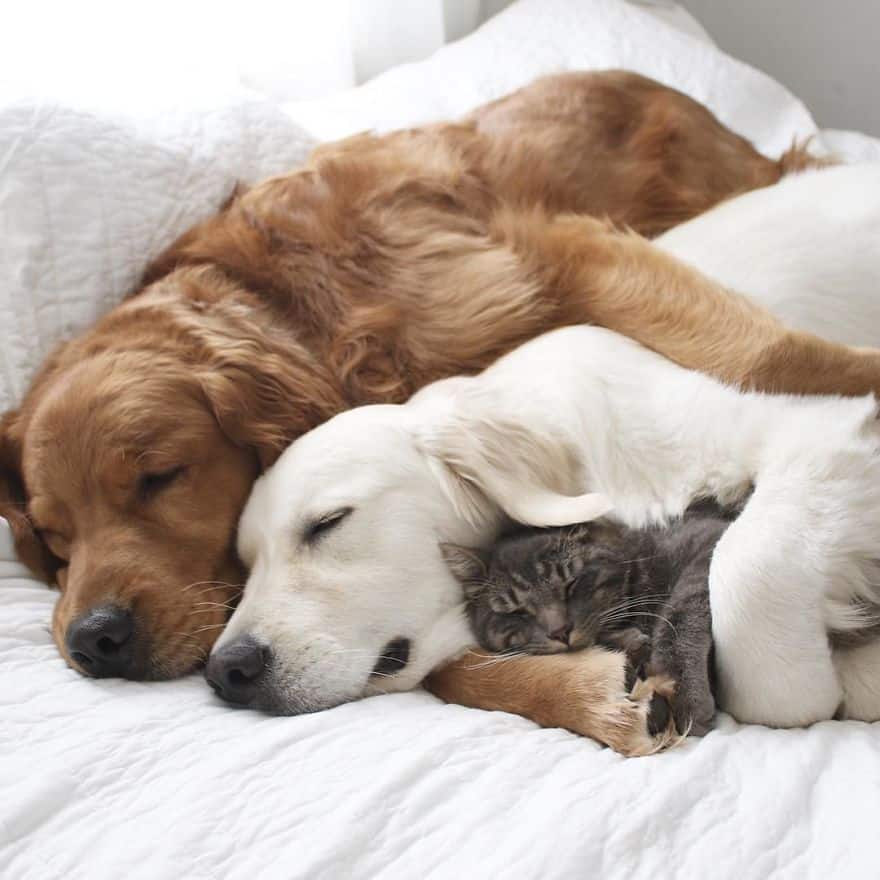 boredpanda.com
This is an amazing story, and it all evolved from being sad to melting our hearts with adorable and happy furballs and their friend human. Her name is Jennifer and she had anxiety.
25. Leaving Home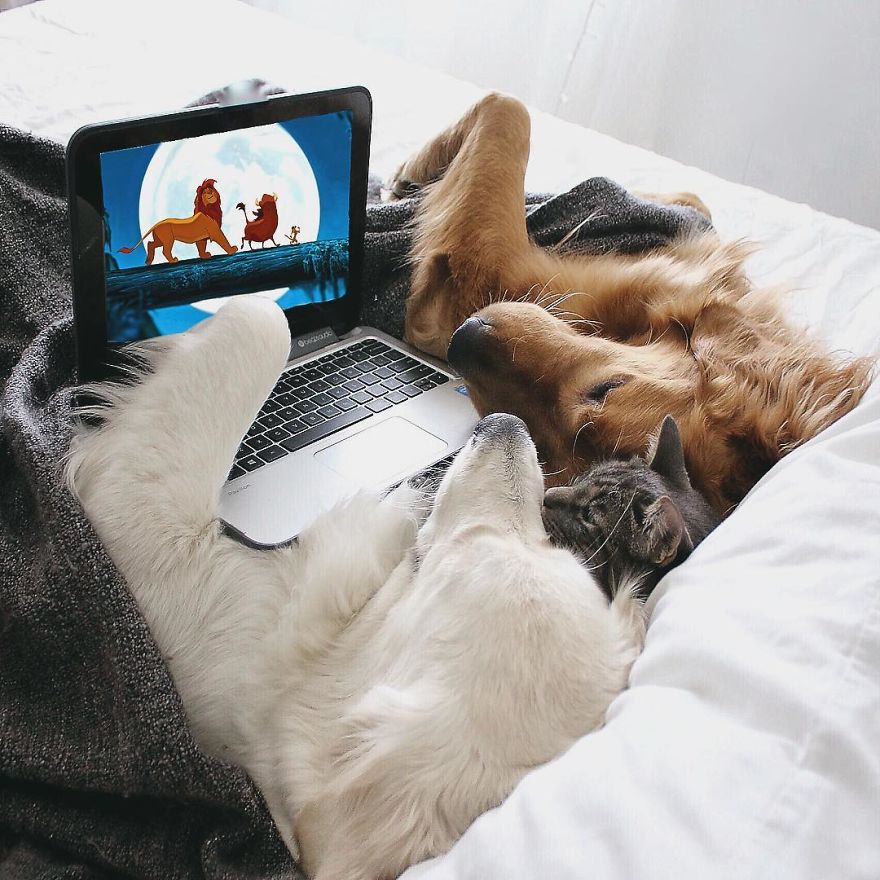 imgur.com
Jennifer left home and her boyfriend thought that giving her a pet would help her with moving away from home. Her first puppy they adopted was Watson, the white golden retriever. But the story has just begun!
24. Watson, Her First Friend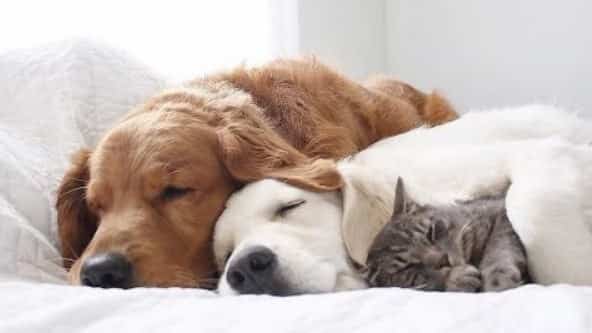 imgur.com
'I have no family here in Washington and no friends so my boyfriend thought that a puppy was a good idea,' Jennifer said it really was a good idea. But what did she do a few months after?
23. The Family Got Bigger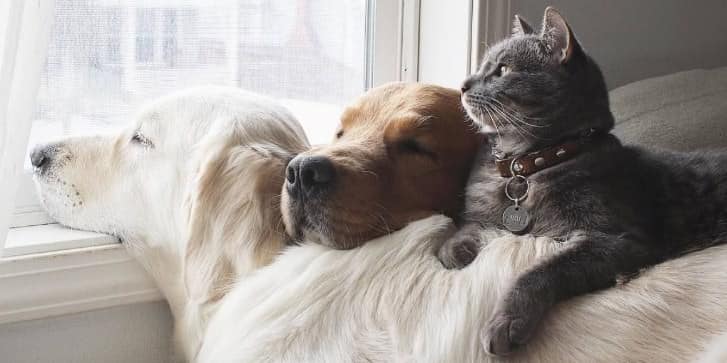 imgur.com
When Watson got 8 months old Jennifer adopted a 5-year old red golden retriever, Kiko. He was having anxiety issues too and Jennifer thought Watson would help him. Later, the trio was completed with a kitten! 
22. Harry, the Confused Kitten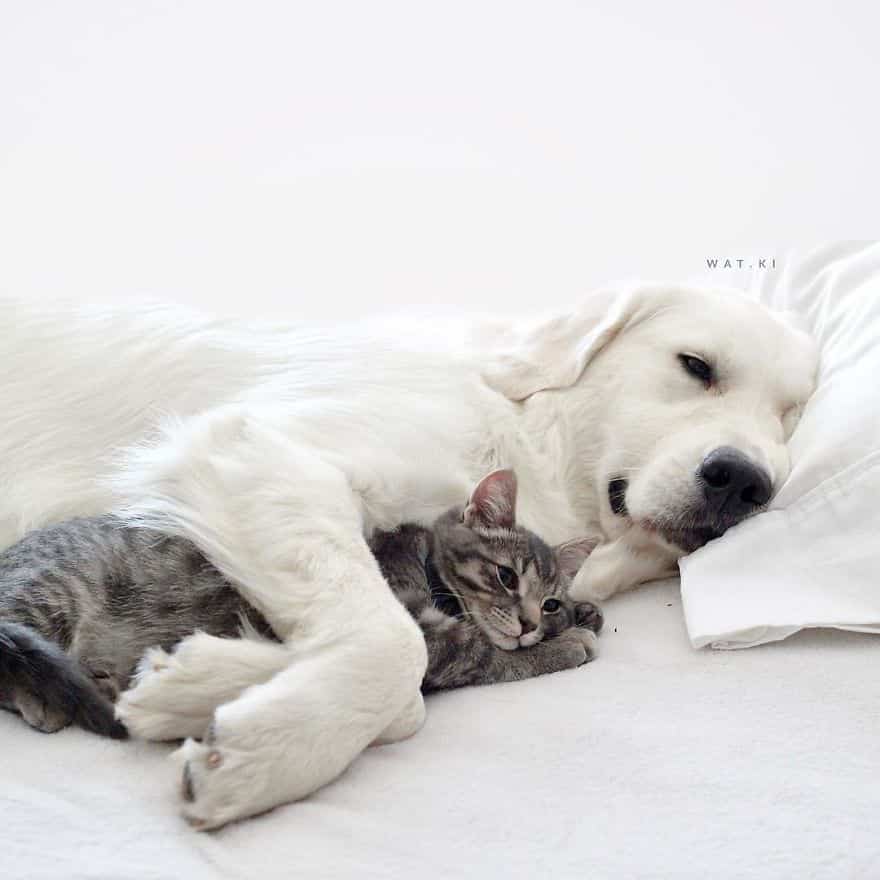 boredpanda.com
Jennifer also adopted a cat, who she called Harry and she recalls that 'Harry the cat was just a kitten when I adopted him'. She also said that at the beginning, as he met the two dogs, Harry was confused and scared. But after a few days, this happened…
21. Watson is a Gentle-Dog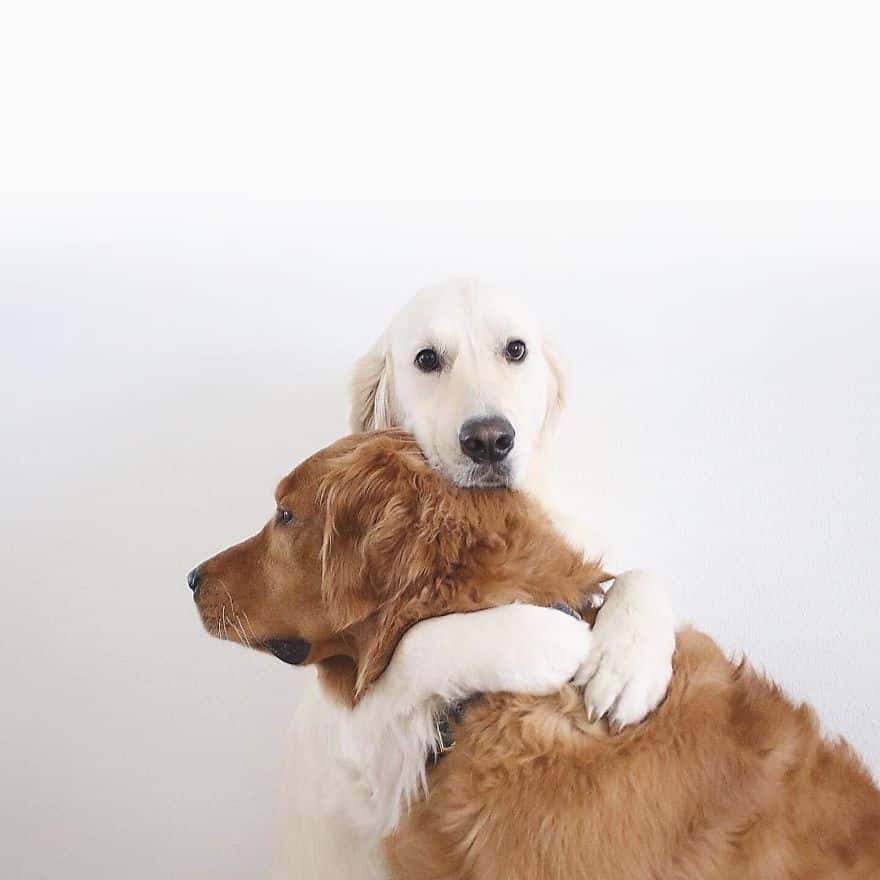 boredpanda.com
Jennifer said that 'it didn't take long for him [Harry] to get used to Watson and Kiko. Watson is very gentle and has a very calm, friendly temperament.' It was the beginning of a long friendship and we have the photos to prove it! #10 is so funny!
20.Watson Couldn't be Happier for New Friends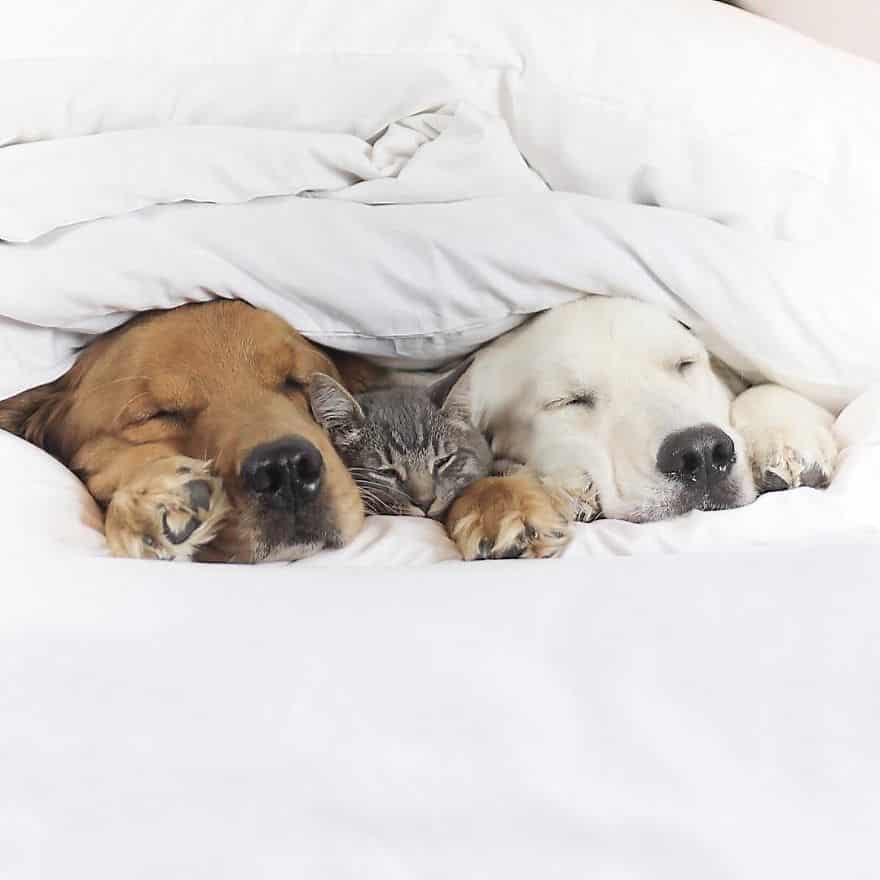 boredpanda.com
'It was easy for him to welcome Harry and make him feel comfortable in his new home', said Jennifer. And we can see why they are all very social and loving.
19. Watson Had a Soothing Presence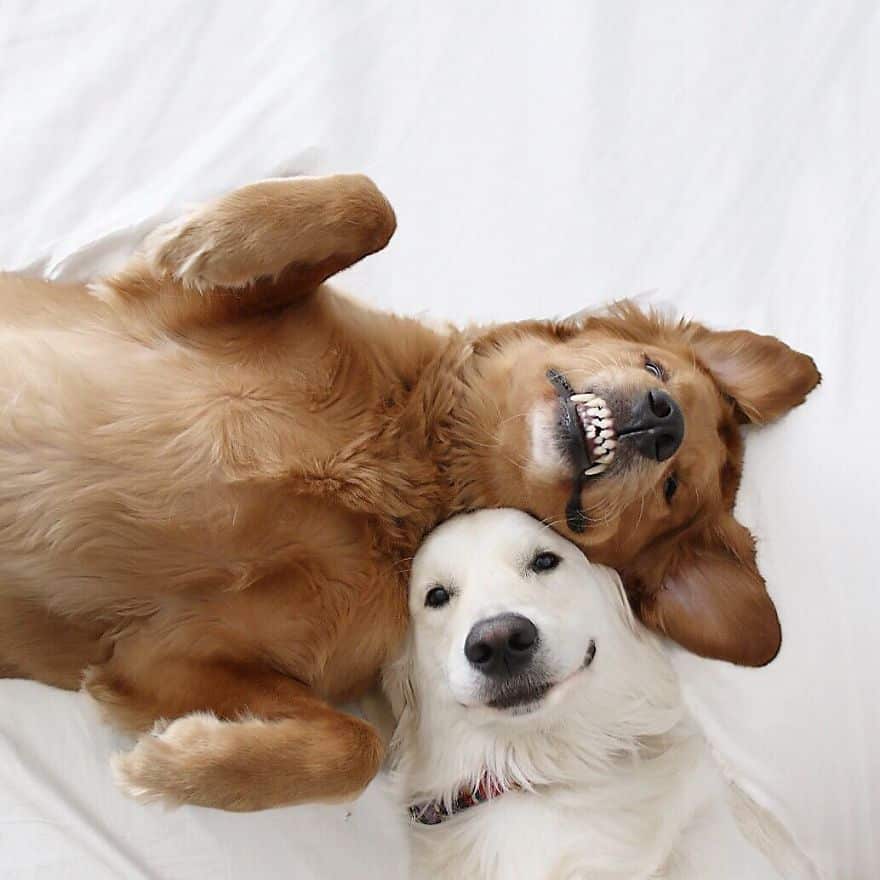 boredpanda.com
Jennifer also said that Watson's presence has helped not only her but also Kiko and Harry to settle in their new home. She realized that it was the best decision she has ever made. Here's what she said.
18. Welcome, Friends!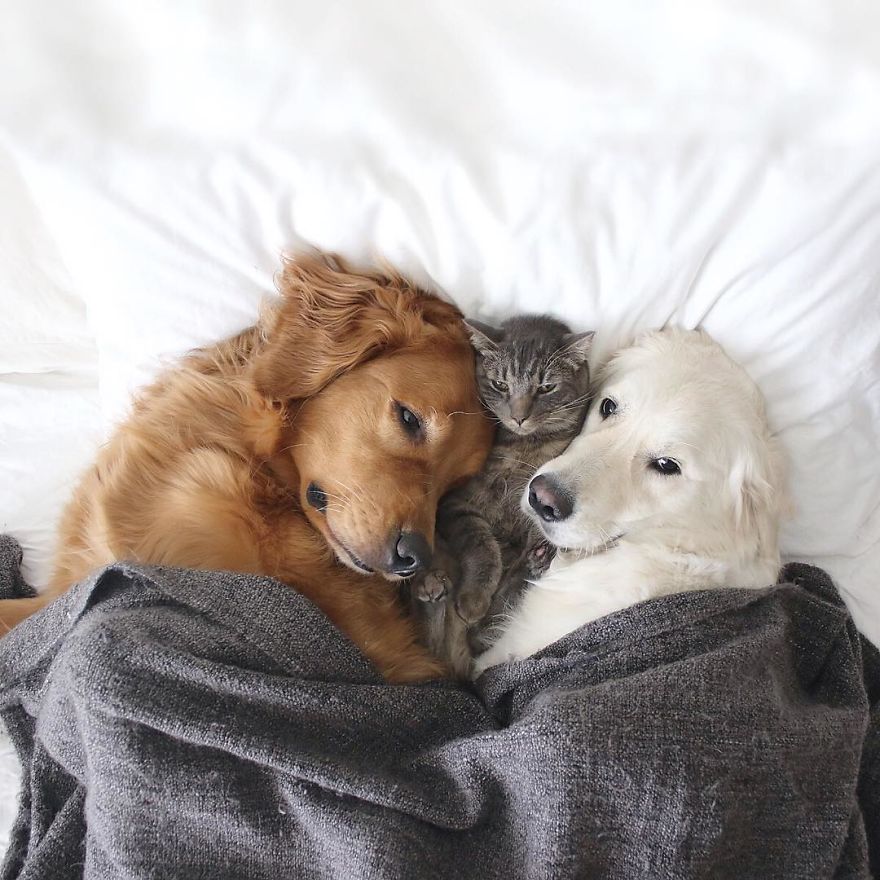 boredpanda.com
'I knew Watson will be able to help him, as he's been helping me with my anxiety and depression', said Jennifer. She also tried to help the other animals to accommodate through Watson's help. Here's what she did…
17. Moving Forward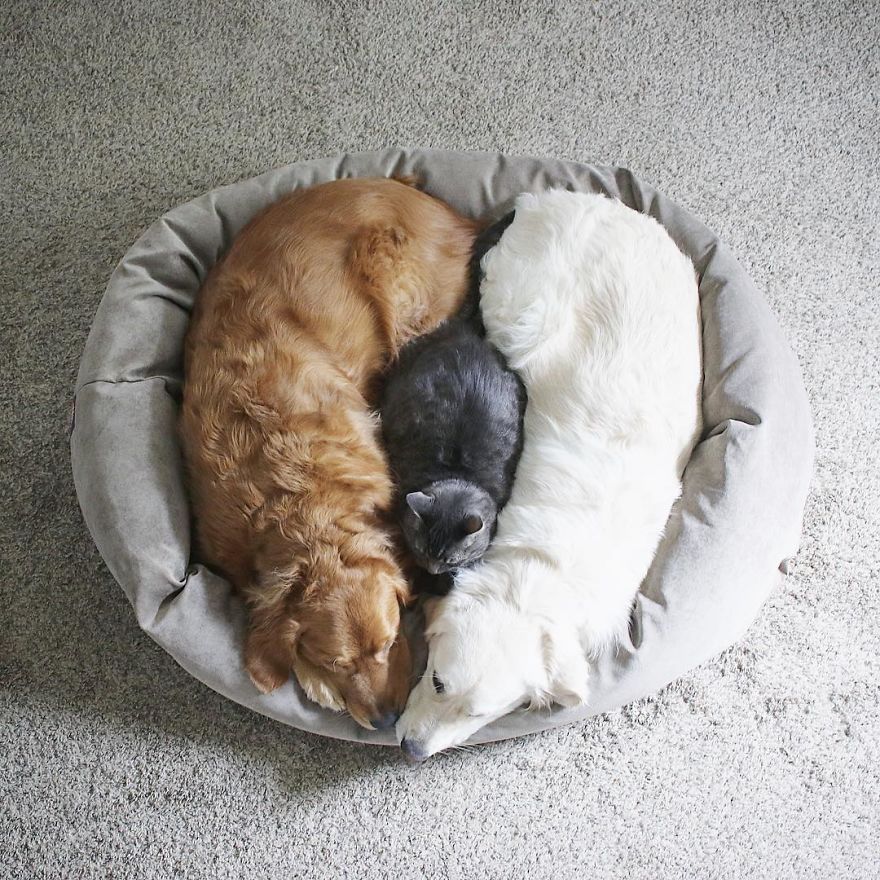 boredpanda.com
'Watson came to our life's (Kiko, Harry and I) to help us move forward from a bad past. And I'm very grateful I have him.'
Check out the next heart melting photos of the three BFFs. You won't believe how they ended up being famous on the internet…
16. Lots Of Hugs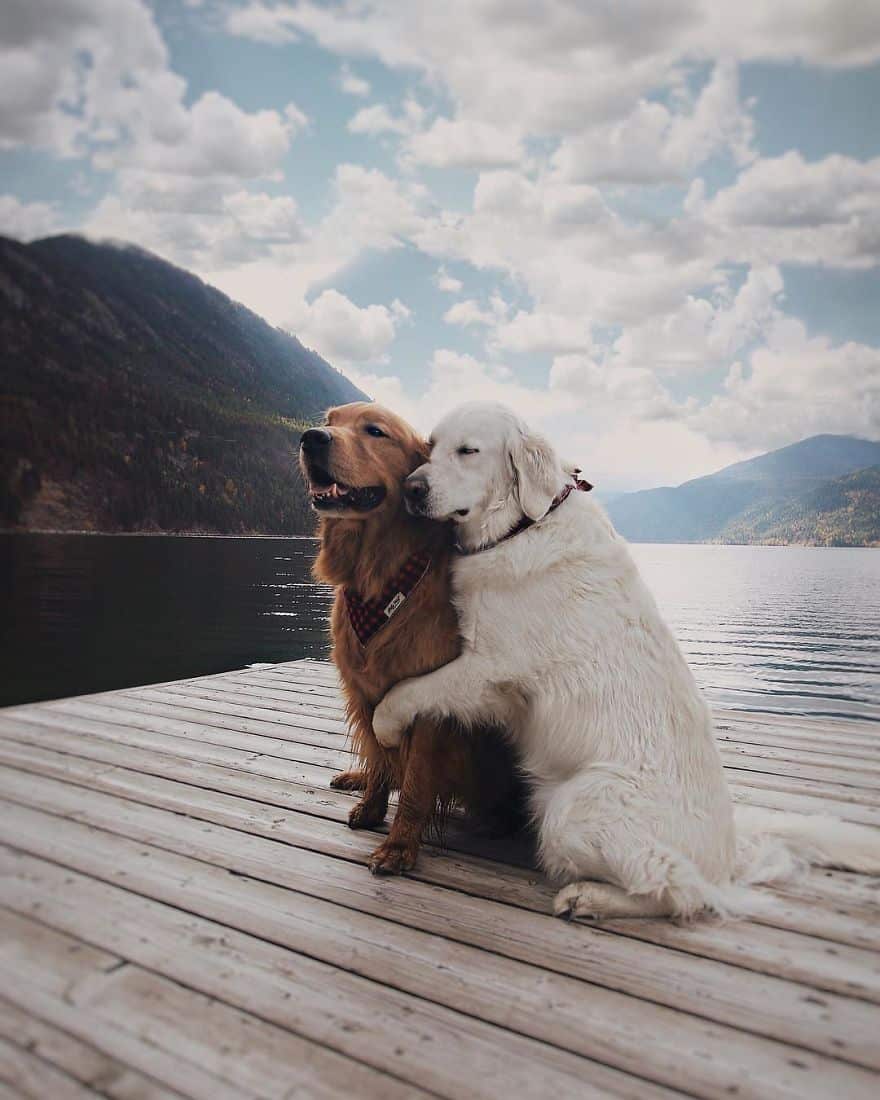 boredpanda.com
Watson and Kiko are inseparable and we can see it in their pictures. They love to spend all the time together and if one is not around, Harry would jump in and be the partner in crime – and by crime, we mean nap, of course.
15. The Colors of Friendship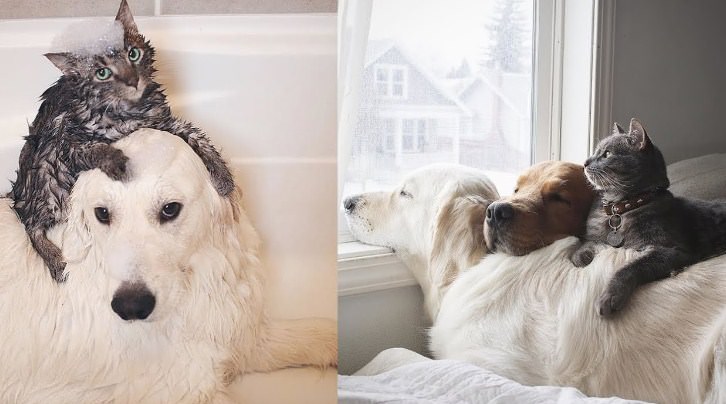 boredpanda.com
It doesn't matter the color or the species, these three pals love each other and would not go anywhere without the others. Isn't that a friendship goal many of us wish to reach?
14. Harry Pretends to Be a Dog
boredpanda.com
All day long the furry pets either play or nap. And sometimes Harry would even play fetch because he thinks he's a dog. Now that is a good boy! Look at how cute they look when they're sleeping together!
13. Snuggles For Free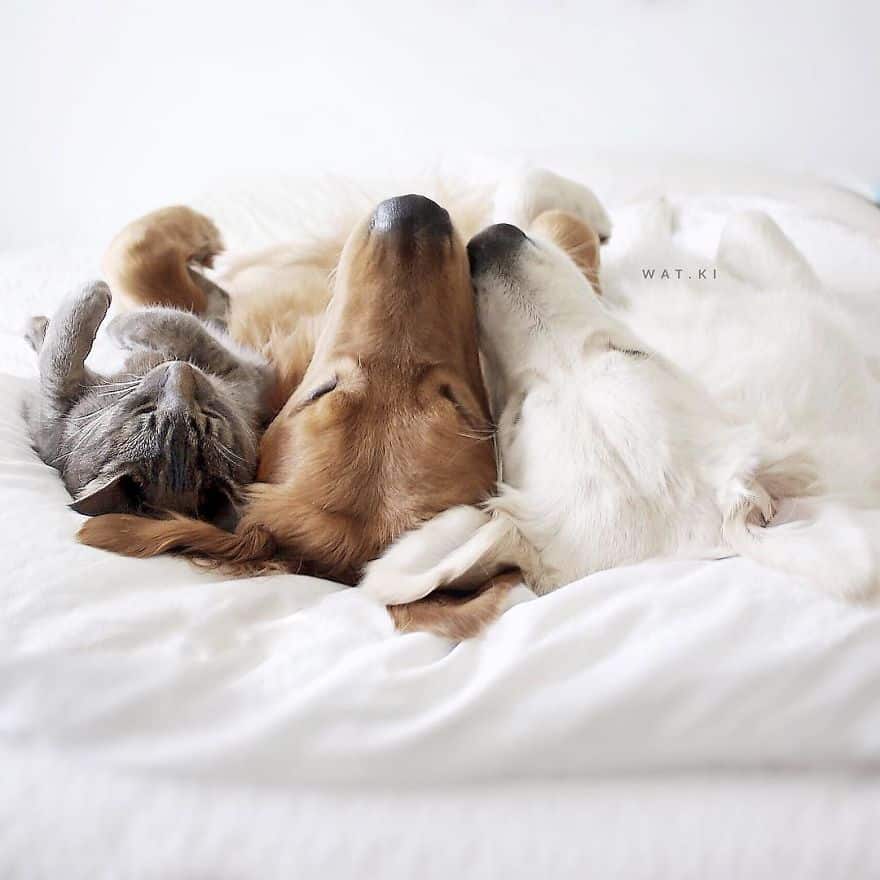 boredpanda.com
Of course, Harry would always snuggle with his best friends and just chill whenever an opportunity appears. And you should have noticed by now that these opportunities occur way too often!
12. Who's the Goofball?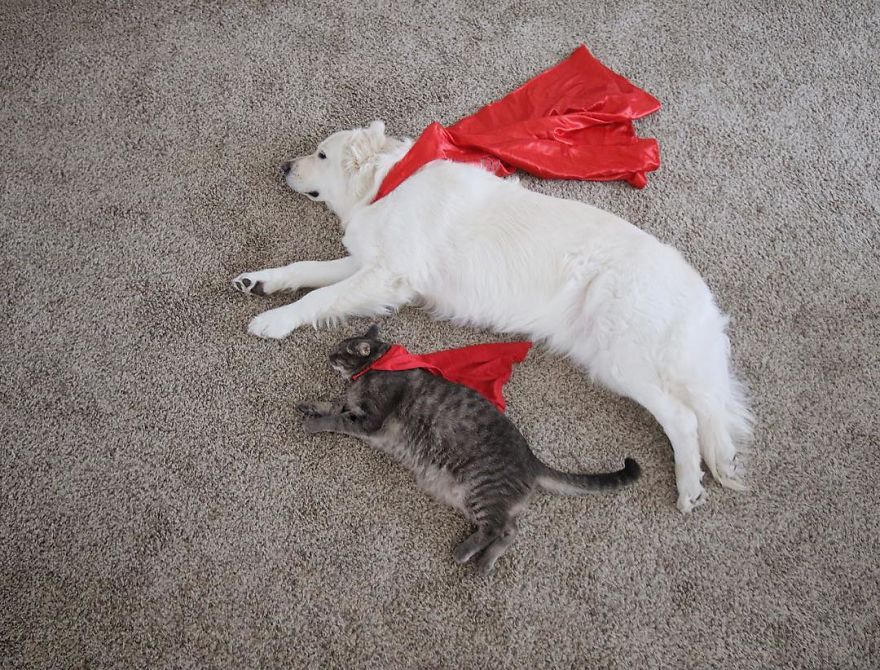 boredpanda.com
If you've been asking yourself who's the crazy one in the furry trio, the answer is: all of them! They look so cute together that it melts our hearts! They're even taking baths together, check them out in the next photo!
11. It's Not What it Looks Like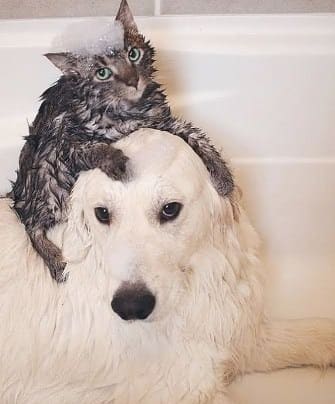 imgur.com
Ok, now you've seen it all. Not only Harry loves his two dog friends, but he is also chilling in the tub. Yep, that's a cat enjoying some spa time, and it's not something you see every day! Int he next photo they're even enjoying some time at the beach.
10. Sharing is Caring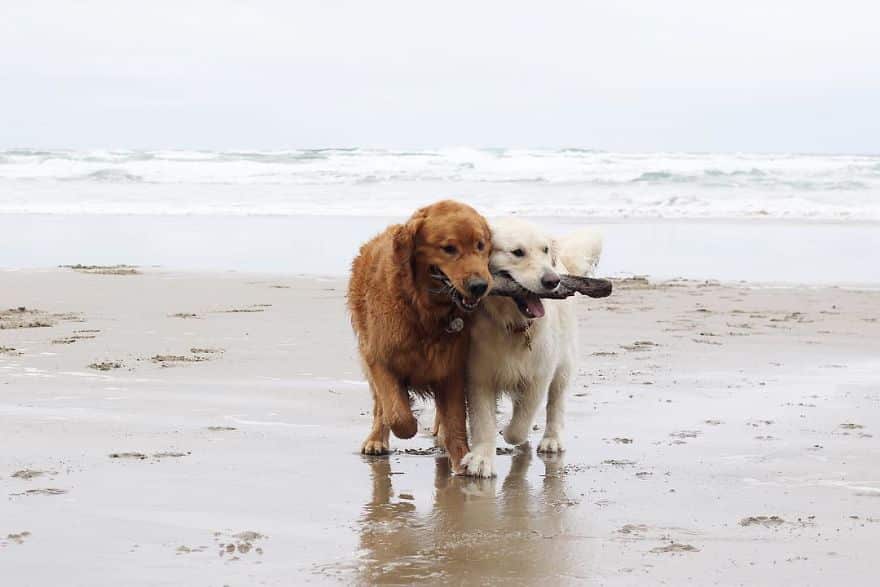 boredpanda.com
Did we tell you these guys are inseparable? Need more proof than what you've seen before? Check out the next photos and try not to drown in cuteness.
9. How Many Times Did We Nap Today?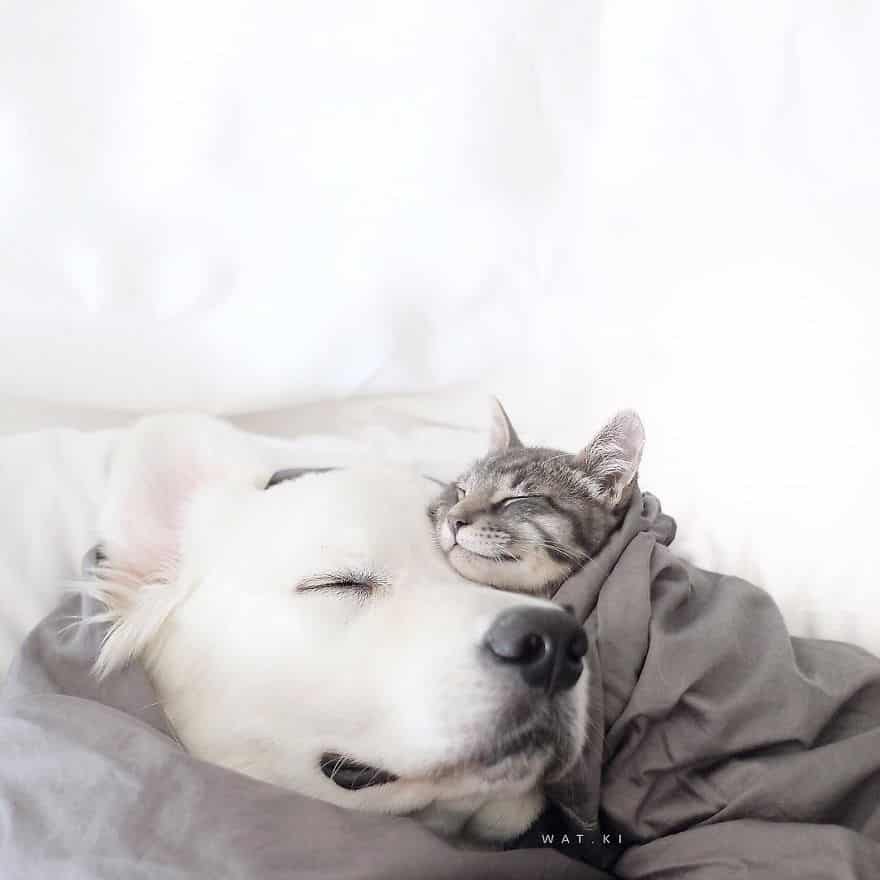 boredpanda.com
Not enough! Harry thinks there weren't enough naps today, so he'll just squeeze between the boys for a while to rest. Totally worth it.
8. Dogs are a Great Pillow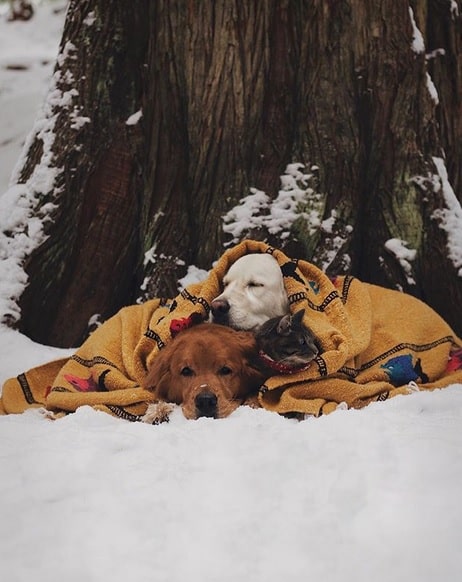 instagram.com
Golden retrievers are known to be very social and loving, so having a needy cat that wants to snuggle all day long is what these dog NEED. They also need some more naps with Harry.
7. Can We Just Nap More?
boredpanda.com
Having walks and fetch time is awesome. But nothing is better than cuddling with your best friends. And the following photos show us just how special their relationship is…
6. Yawn!
boredpanda.com
'Hey guys, wake up, I want to sleep at the window this time! Oh… nevermind…'
5. So Much Love
boredpanda.com
'Let me give you a kiss, MUAAH!' The three brothers just can't get enough of each other! Look at how funny the golden retriever is in the next photo!
4. Smile For The Camera!
funnycatskittens.com
Look at these two dorks trying to take a picture… they're adorable! But the next photo is even better!
3. Mellon Heads
funnycatskittens.com
Their human mom had a lot of fun when she took this photo! And we can't stop laughing!
2. 'Oh, my!'
labradorretrieverhub.com
Looks like the brown lab is no longer in the mood for photos. But his brother loves them! Let's try it one more time…
1. <3
labradorretrieverhub.com
Jennifer is lucky to see so much love around her. And who wouldn't be? We want to be under that blanket surrounded by these adorable fellows!